Today I get to show off my Perfect Party Dress from Tie Dyed Diva's (affiliate link)!! If you haven't checked out some of the other dresses, "hop" over and check them out!!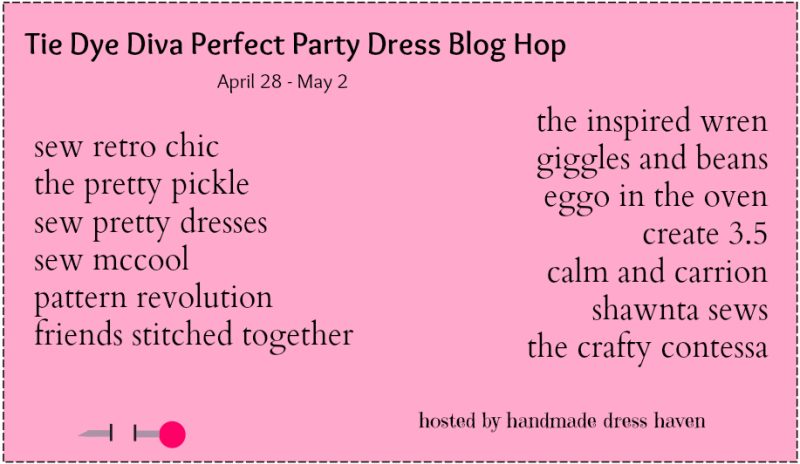 I made the baby version, which is the same thing only it has the cutest puffed sleeve option!! Kathy over at Handmade Dress Haven gave us the challenge of switching something up on the pattern or change something about it. Challenge accepted! I had a ton of different idea's of what to do, but I decided on the woven bodice one night at about 3:00 in the morning rocking Princess B and giving her a bottle!
Here is what I had envisioned…
Now how in the world did I do it? Well let me show you!
(in my pictures I tried to use fabric that is easier to see than what I actually used for the dress, to better explain)
I cut out 8 2 1/2 " x 16″ strips. I folded over one edge about 1/4-1/2 inch and press.
Next cut the 8 strips in half and sew the hem. I used a twin needle because I like the look, you can use a single needle if you like.
Once all edges are hemmed, you can start arranging/weaving. Spacing them an inch from each other I butt up the ends making a V.
To keep your pieces from moving all over the place you can pin them or use Wonder tape that will wash away! I loved that stuff because the pins can be bothersome with how little the strips are. I then put a small hidden stitch at the bottom of the strips to keep them together. I used a contrasting thread to show you here:
 To add this part to my bodice I took the original pattern bodice front and made a new "copy" of it. I then cut out a middle chunk where I want my weave to show. ** I'm not going to lie, when I wrote that last part I thought back to when I wore extensions for my maternity pictures.It was crazy windy and I kept flipping my hair everywhere asking if my weave was showing, which got a chuckle out of a couple of the photographers, but I was serious!! hahaha*** Now back to the topic at hand!
You will want to cut one front out of your main fabric with your new bodice pattern. If you are lining this you can just match up the front once fully sewn and cut out your lining fabric.
You will want to lay your bodice piece on top of your woven piece, right sides together.
Flip your new bodice piece upside down and sew the opening. This way when you flip it over and press it will line up and look marvelous!
You will flip the sides over like you did with the bottom of the bodice opening, and sew up the sides.
Flip everything right side out and press.
You will want to trim off any of the excess woven pieces. And voila!!
Here is how it looks all put together on the dress!!
And now some more cute shots of Princess B!!
It was about this time where she started to get buckwild and the shoes came off and she was climbing things!! I got a couple more cute pictures and then we had to call it a day!!
I was given this pattern for free to do this blog hop, but this week you can get it at a discount!!