For today's guest post, we're welcoming Darcie! She made some Quidditch inspired pajamas for her Harry Potter loving son.  Looking for the competition? It's over on MaeandK. We also have the month-long linky party where you can add your own practical Harry Potter outfits – there are even prizes
Scroll down for the link to the give away.
Hi, I'm Darcie, and I blog over at Mimi's Mom. "Mimi," or Kimberly, is my eldest, and a Harry Potter fan for life! But now the other two are getting into the stories as well. So I was really excited to get to participate in Harry Potter month for CraftingCon!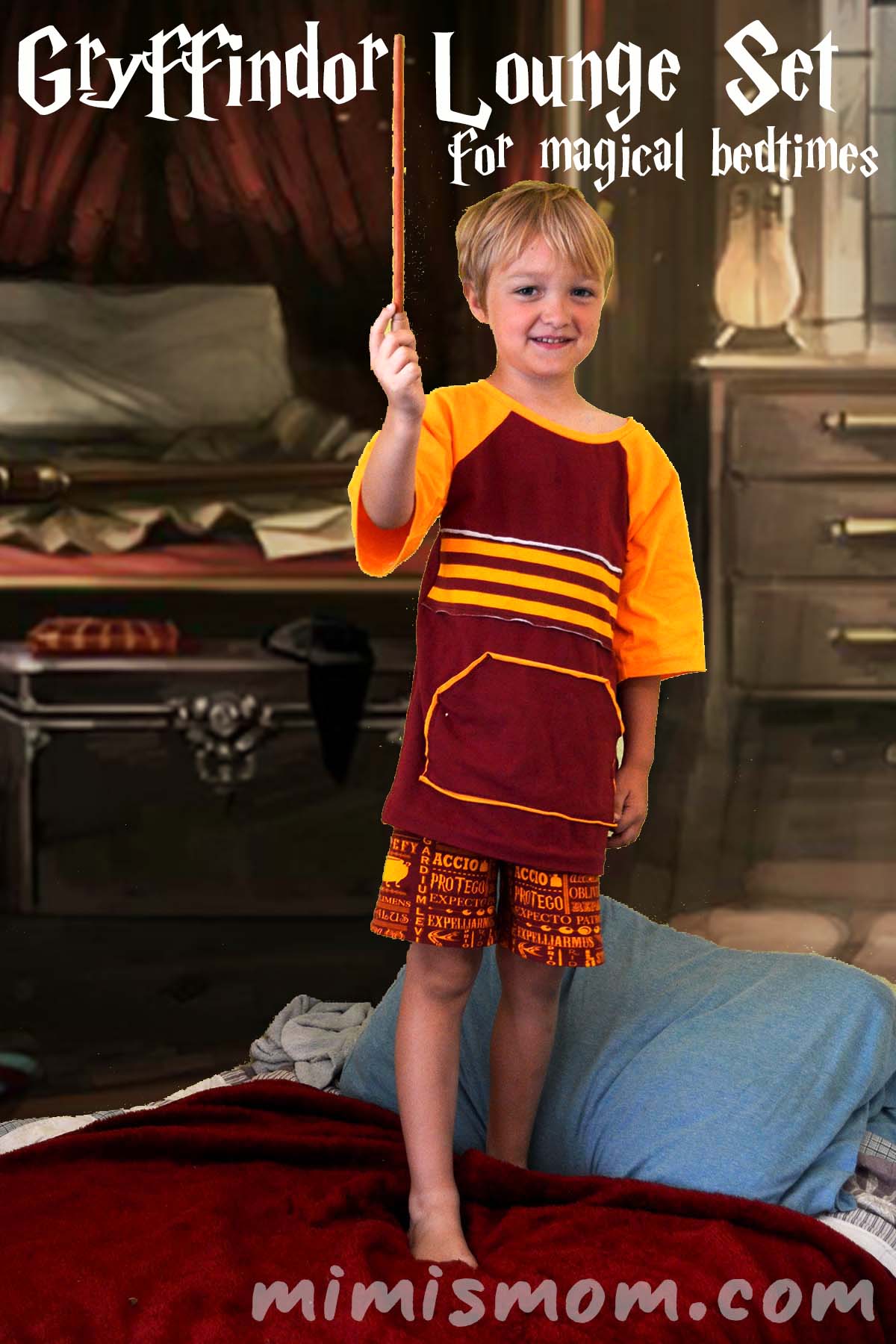 Like I say, we've been Potter fans for quite a long time. Kimberly, after seeing some of the first two movies, requested the books read to her right around her fourth birthday. It took us about 15 months of bedtimes to get through the series. She immediately picked up the first book again to start through on her own. I think she's completed the first book at least ten times! But her absolute favorite story is the third. She says it's because there's no You-Know-Who.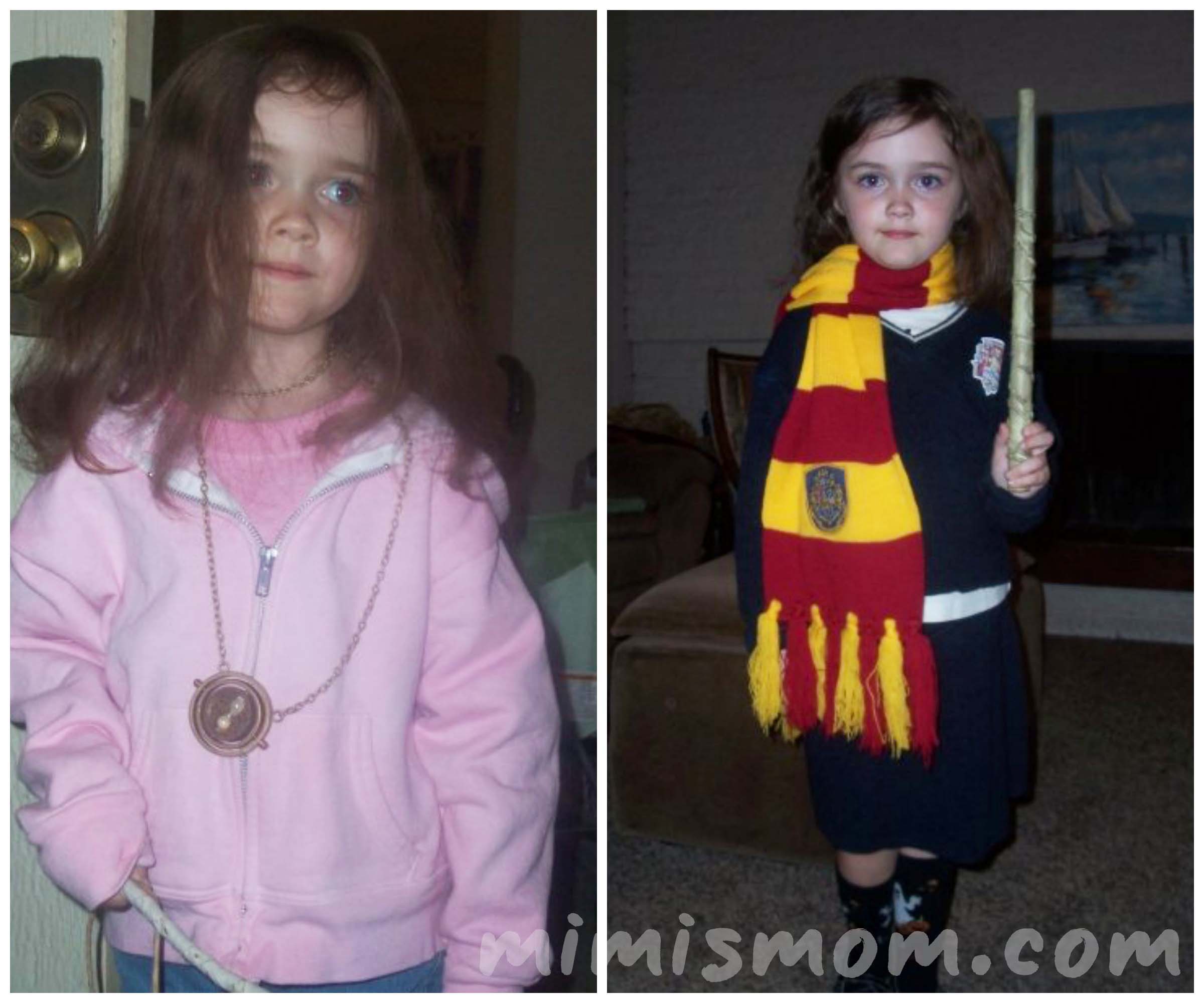 She really identified with Hermione as a lover of books and cleverness. She dressed up as her for two years, Kindergarten and First Grade!
And while she's read probably hundreds of other books in the last 5 years since, these stories continue to be favorites! But now her little brother James is finally interested in reading. We've had a great time reading through the first book! None of it is a complete surprise, of course, but it's so much fun to hear all the details and experience the story over the long term. We're reading the last chapter tonight! And to celebrate, I made a pair of Gryffindor PJs to keep him cozy.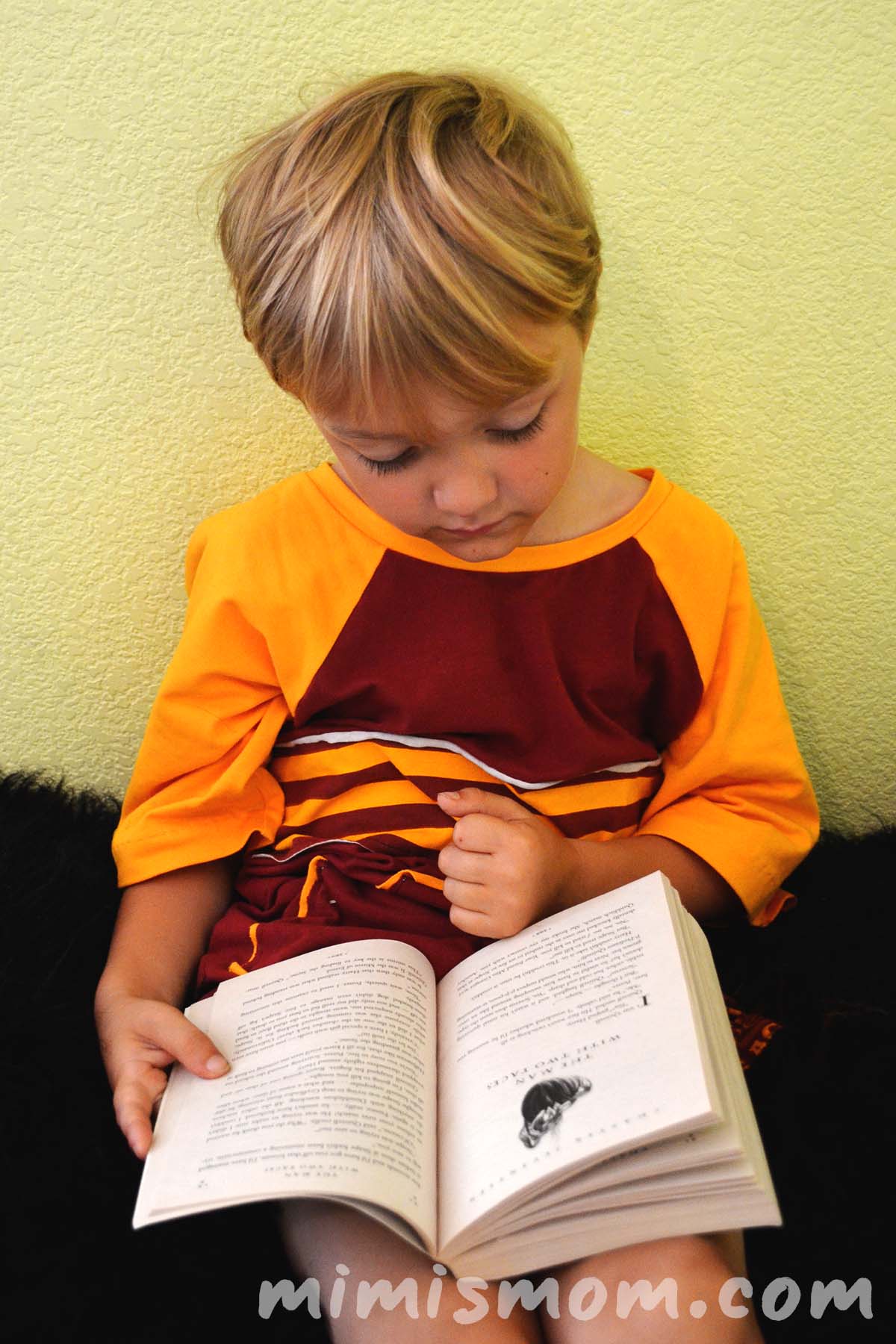 I used the Scientific Seamstress All-The-Rage Raglan and Easy Fits patterns to make a loose fitting lounge tee and short. For sleeping purposes, especially on younger children, consider sizing down to make pajamas fit a bit more snugly. I know he'll wear this shirt during the day as well, just as his big sister does with hers. It's not overly geeky, and it looks like just a shirt if you're not in the know. My inspiration for this shirt came from the Quidditch look of Harry's 5th year. The team wore some scarlet jerseys with a pocket outlined in gold with stripes across the chest.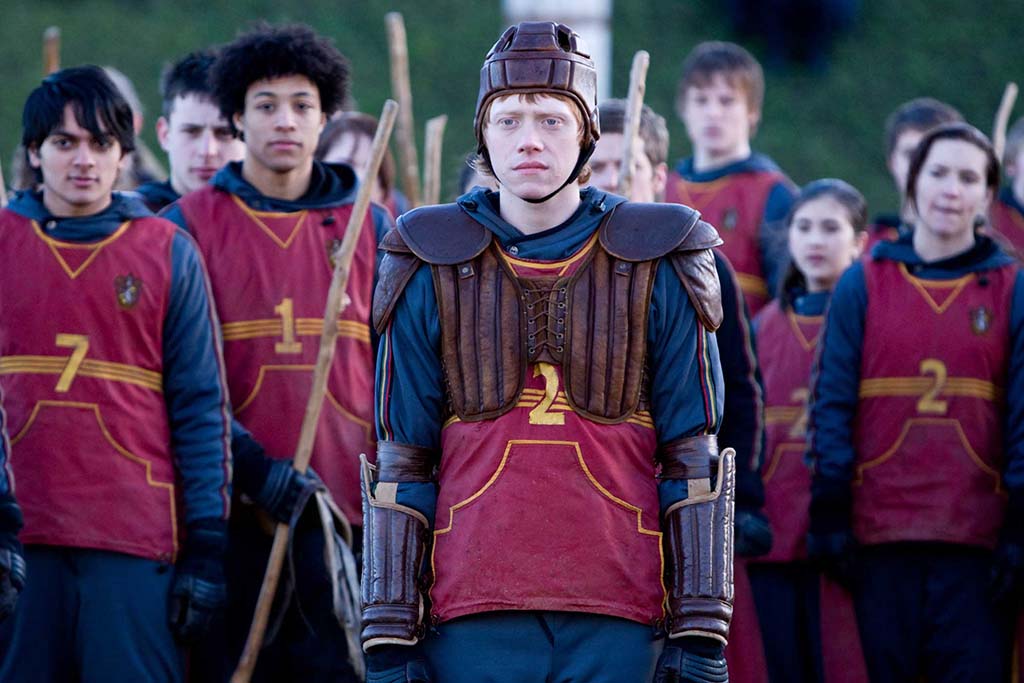 I drew an outline of a front pouch and used this as a new pattern piece for one of each color. I stitched these together on the two diagonals, then stitched the pocket down to the shirt front at 3/8″. I then trimmed the front layer away carefully, revealing the gold color beneath. This simple assembly works very well for knits, since they will not ravel or fray. I added a patch of stripes over the chest, and I assembled the shirt as per the instructions. This would also be great with an added applique of a team number in the center of the stripe! The shorts were a custom print, but these would be equally great in a stripe, or a solid with the Gyriffindor mascot on one leg.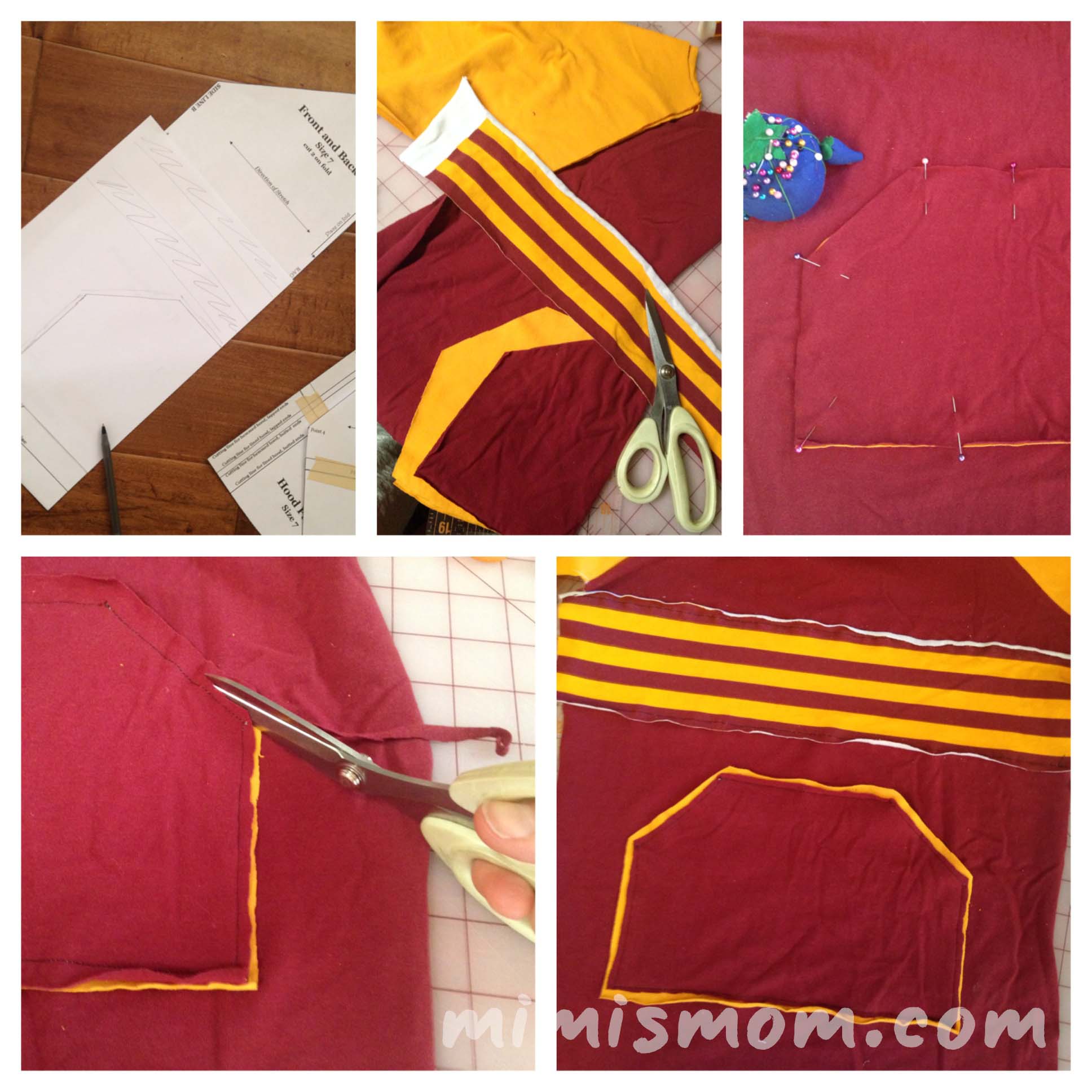 My son loved this look! He was so excited to have a Harry Potter look of his very own, even if Pottermore did sort him into Hufflepuff. Not that there's anything wrong with that! Maybe he'll be like Neville, a little unsure of himself at first, but a true friend and full of courage when it counts. My daughter tried to steal the shirt from him, but now she says she's holding out for a Ravenclaw inspired look.
I hope this inspires you to create a little magic at bedtime, or anytime, with your kids or for yourself! I think I need a little Gryffindor dress, although maybe I'll hold out for Ravenclaw as well. "Wit beyond measure is man's greatest treasure."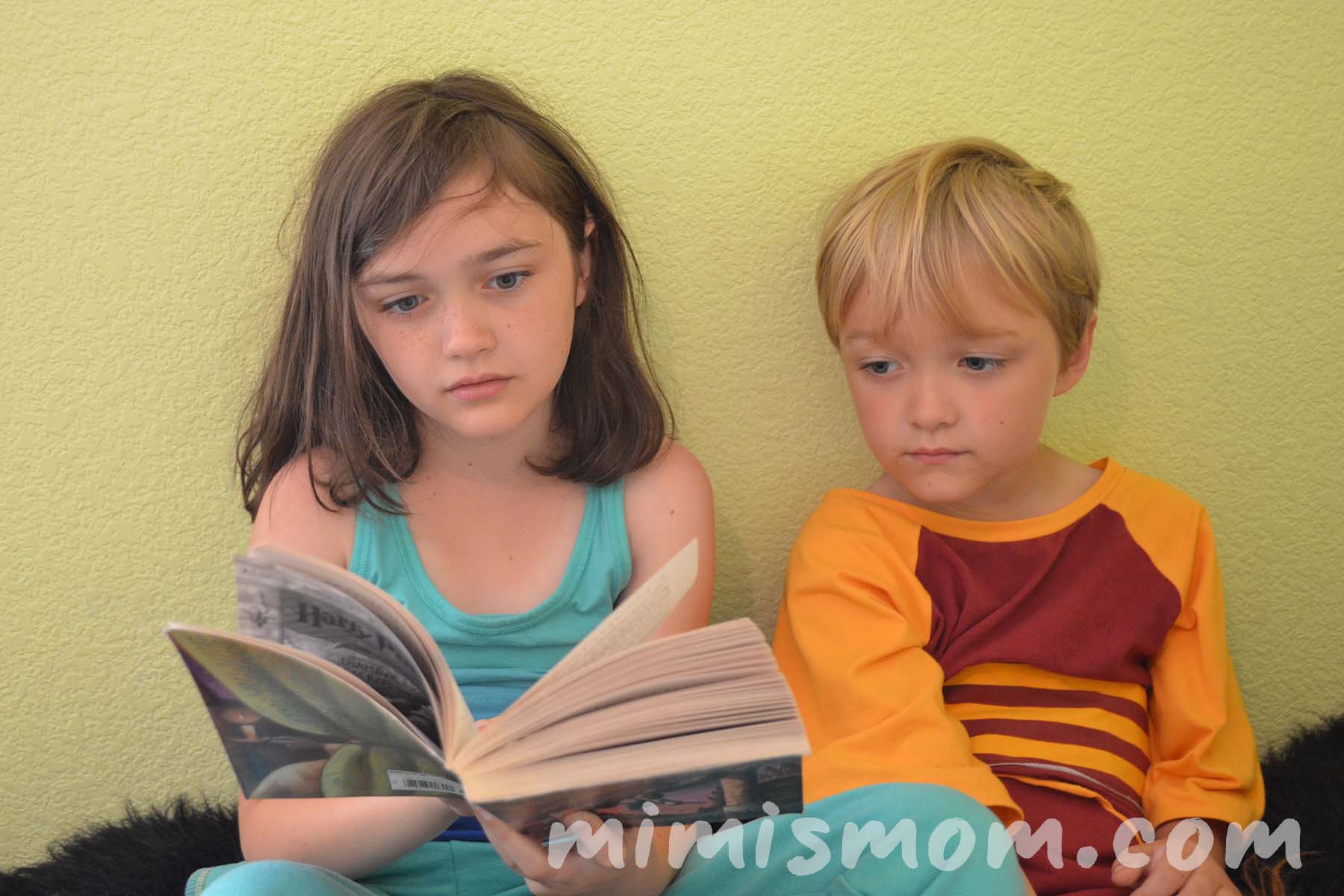 Avada Ka-hug-ya!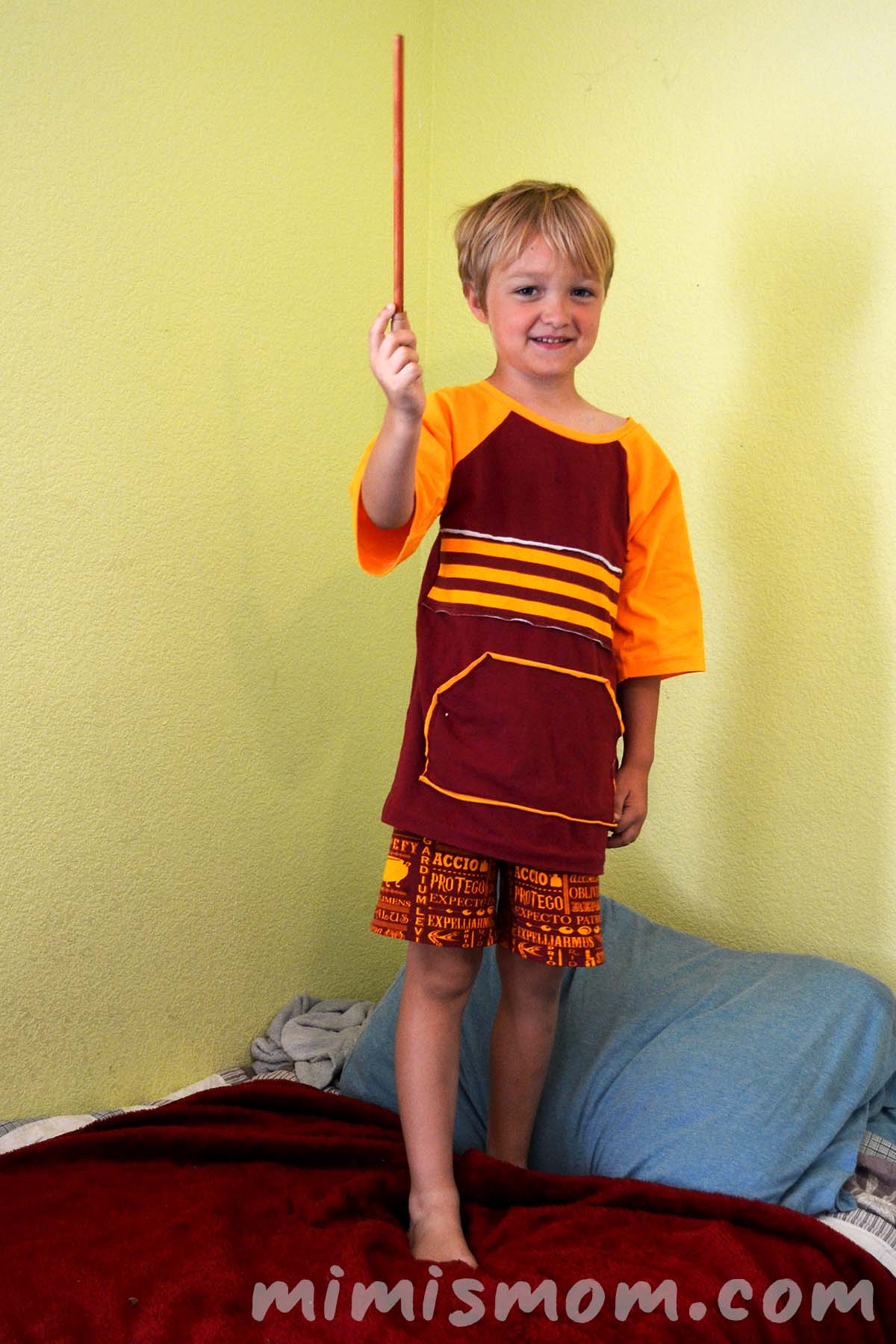 Thanks Darcie! I'm pretty sure my boys need  a set of these! Of course, mine would need Ravenclaw and Hufflepuff :)
If you want in on the action, we're looking for bloggers both big and small to compete, guest post, and write tutorials for December – May. Send an email to CraftingCon (at) gmail (dot) com – we'd love to have you!