We have the honor of welcoming Kari back to CraftingCon! She sewed up a Snow White dress for our kick-off tour that just knocked our socks off and now she's done it again with an Everyday Jasmine dress! Don't forget you can sign up here to be involved in CraftingCon. And be sure to check out Jonie's adorable Tinkerbell Dress tutorial!
Hi there!   I'm Kari of That's-Sew-Kari.  I bought my first sewing machine exactly two years ago and I think I've sewn nearly every day since then.  I am SUPER excited about being a contestant this month for CraftingCon.  I have two Princess-loving little ladies at home that get most of my handmade goodies.  I think we've seen just about every Disney Princess movie available and one of my girls' favorite movies is Aladdin.
Jasmine, the 6th official Disney Princess, is one that doesn't get as much attention as she deserves.  Jasmine is incredibly strong and independant, yet extremely passionate and caring at the same time.  Of course, every Princess has her flaws, and Jasmine is sometimes fussy, opinionated, and quite stubborn.
–WAIT–
Are we talking about Jasmine or my 3 year old?!!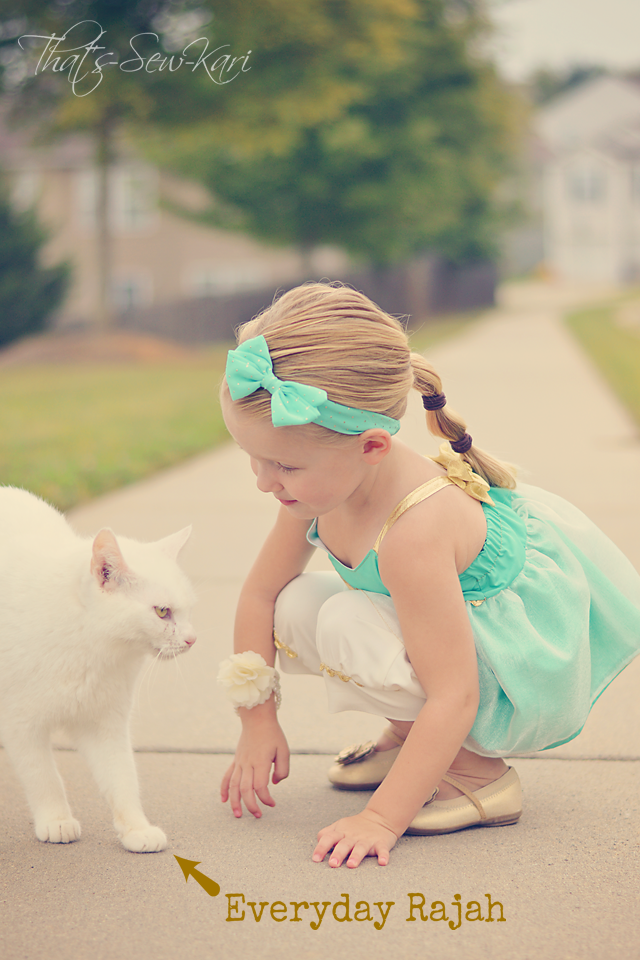 You can often find Jasmine with her best pal, Rajah.Our neighbor's cat, Butter will have to do.
Of course, the outfit Jasmine is often seen gallivanting around town is a bit scandalous for a 3 year old, right?!  I set out to create an Everyday Jasmine-inspired outfit that I would allow my daughter to wear around the town, yet be comfortable enough to run around the playground.   I had so many ideas swirling around in my head, it took me a while (read: forever) to decide which patterns I'd put to use.  I seriously waited until the 11th hour.  (Amy and Maegan may have gotten a bit worried, actually) (For the record, we weren't – we knew Kari would come through :) -Amy)
To begin, I started with the Serendipity Trousers by Sewlosophy in the Capri-length cut.  The drape of the pants and the yoke at the waist reminded me so much of Jasmine's billowy pants.  I used Stretch Marlow Denim Ivory from fabric.com. — which, by the by, is NOT denim.  Really, I ordered this to make skinny jeans for my girls, but turned out to be perfect for this project.
Of course, I had to add a bit of fancy as Jasmine is a very rich Princess.  Gold ric rac trims the seams and gold bias tape bows adorn the tops of the gathered pleats.
The top took me a bit longer to settle on a pattern.  Keeping in mind the long summer heat far into the fall months here in the southeastern United States, I opted to use the Hummingbird Dress by Rabbit Rabbit Creations, and shortened it into a top.
Giving a nod to the movie Aladdin, the bodice is embellished with a Magic Genie Lamp applique from Frou Frou by Heather Sue.  I've also trimmed it with the same gold ric rac and gold bias tape.   To add a bit of whimsy, I cut a cream organza overlay for the "skirt" portion of the top.
A golden bow sits where the straps meet in the back.
My little Princess had so much fun transforming into Jasmine today.  Jasmine even accompanied me in picking up my 5 year old from Kindergarten!  No matter the day, every day is the perfect day to be a Princess… especially when it involves a magic carpet ride!
A special thanks to CraftingCon for such a wonderful series!  I've sewn my fair share of over-the-top Princess dresses over the last year, it's nice to think outside the box and come up with something suitable for everyday wear.
I hope you enjoyed my little post!
Wow! Did you catch a glimpse of those baby blues? What an adorable Jasmine she makes!!
This month's giveaway is this adorable Snow White dress in size 4T, donated by Kara. Even if you don't have a girl in that size, it would make a great birthday or Christmas present for a special someone who does!
We know it's hard to define the line where a princess dress becomes a costume, so we are opening the linky party to any and all Prince or Princess looks, Disney or otherwise! You'll notice I said Prince – I'm planning on Beast and Prince Eric for my boys! The girls can't have all the fun :) Have you made your daughter a Cinderella ballgown? Add it. Does your girl wear her upcycled tee with Elsa's face on the front? Add it. Did you make your son a Prince Charming costume for Halloween? Add it! One lucky linker will win one pattern of their choice from some more of our favorite designers: Paisley Roots, Fabulous Home Sewn, Pie Pie Designs! What are you waiting for? Get linking!
Rules for the link up: Enter anything fiber-related and Prince- or Princess-themed from the past year (this means last Halloween counts!). There is no limit to how many posts you can link up, but adding more won't increase your chances of winning – in other words, you can enter fifteen looks, but will only be entered to win once. The contestants for this month are allowed to enter anything they've done that fits the theme, but are not eligible to win – however, our guest posters can enter their posts and are eligible to win. I can't wait to see what you've all made!
Don't forget to grab a button!
[inlinkz_linkup id=441172 mode=1]