We have another fantastic princess dress this week for you! Seriously these ladies are doing some amazing work! Not only is RaeAnna an amazing seamstress, she is also so generous! She's offering a discount in her shop for her Bumblebee Dress! Scroll to the end for the code. Don't forget you can sign up here to be involved in CraftingCon. and you can hop over to Mae&K to see the inspiration post.

I'm so glad I got tangled up in the Crafting Con series for September!!! (<— see what I did there?! LOL!)
Disney Princesses are about to hit it big time in our house! My little girl is 2 and already loves all things girly and princess-y!
I originally wanted to do a trifecta with the three patterns I have available in my shop but I was only able to get around to finishing one. The Bumblebee dress is the perfect dress for creating princess inspired clothes! In fact, I HAVE to show you posts from my friends that have used the pattern!
First, Magda (who is also posting in Crafting Con this month!!!) has made the cutest Snow White dress using the Bumblebee pattern!
And Marissa at Rae Gun Ramblings made the cutest princess dresses for her nieces from the Bumblebee Pattern!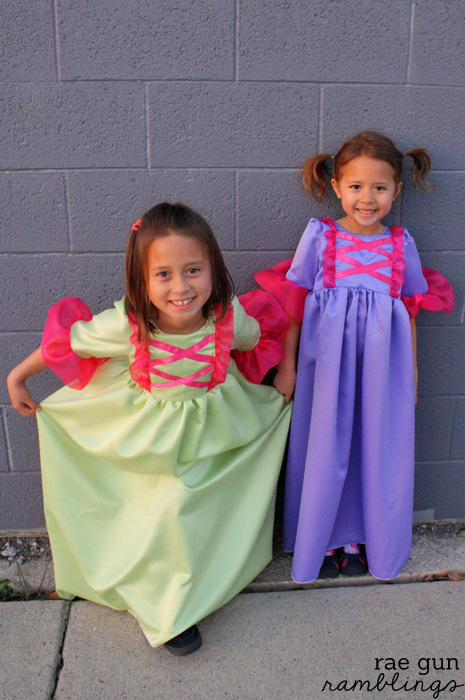 When I chose Rapunzel I knew that the iconic corset bodice would be really easy to achieve with the bodice of my pattern! I know the challenge is to make the looks to be more everyday but I couldn't pass up the opportunity to use some sweet gold trim and shiny fabric! I just love the way the gold trim looks on the bodice!
And what's a Rapunzel dress without a Pascal!?!
Now that we're entering this new phase in toddlerhood I think photoshoots are going to be even more fun! Like this next shot – I'm so glad she kissed the little lizard! I love it!
Also, what's a princess dress without a proper tea? Drink up, Pascal!
And since my son was eager to jump in on the pictures, we put his Knight Hoodie on and brought out our trusty rocking horse! You can't have the Disney version of Rapunzel without Flynn and Maximus!
Thanks so much for visiting! I'm already blown away by the other designs in the series and can't wait to try my hand at some of these ideas as my daughter continues to grow up loving Disney Princesses!
In honor of Princess month, if you would like to purchase the Bumblebee Dress to create your own princess creation (or even just for fall/winter wardrobe!) I am offering the Bumblebee Dress pattern for just $5 to Crafting Con readers! Use the code CRAFTINGCON in the online store and the code is good until September 28th 2014!
How adorable! That kissing picture is killing me! Thanks so much RaeAnna :)
This month's giveaway is this adorable Snow White dress in size 4T, donated by Kara. Even if you don't have a girl in that size, it would make a great birthday or Christmas present for a special someone who does!
We know it's hard to define the line where a princess dress becomes a costume, so we are opening the linky party to any and all Prince or Princess looks, Disney or otherwise! You'll notice I said Prince – I'm planning on Beast and Prince Eric for my boys! The girls can't have all the fun :) Have you made your daughter a Cinderella ballgown? Add it. Does your girl wear her upcycled tee with Elsa's face on the front? Add it. Did you make your son a Prince Charming costume for Halloween? Add it! One lucky linker will win one pattern of their choice from some more of our favorite designers: Paisley Roots, Fabulous Home Sewn, Pie Pie Designs! What are you waiting for? Get linking!
Rules for the link up: Enter anything fiber-related and Prince- or Princess-themed from the past year (this means last Halloween counts!). There is no limit to how many posts you can link up, but adding more won't increase your chances of winning – in other words, you can enter fifteen looks, but will only be entered to win once. The contestants for this month are allowed to enter anything they've done that fits the theme, but are not eligible to win – however, our guest posters can enter their posts and are eligible to win. I can't wait to see what you've all made!
Don't forget to grab a button!
[inlinkz_linkup id=441172 mode=1]