Today we have Melissa from Rebel and Malice sharing the cutest Toad inspired outfit! I love it!! Be sure to head over to Mae&K to see the competition looks for this month! And don't forget about the GYCT coupon code for this month!
For this season of CraftingCon we are having a sew along! We're running it in our Facebook CraftingCon group and is open to anyone who wants to join in (and if you don't like this month's theme, you're more then welcome to join now and play along with a future theme!) The competition look and linky are over at Mae&K this month.
Wahoo! Hi, I am Melissa from Rebel and Malice. It is my turn to get nerdy with you. This month takes me right back to my childhood with the theme being Super Mario!!! I know, what 80s child doesn't get excited when they hear that name? It really makes me want to go lose a few hours of my life playing some Super Mario World followed by MarioKart, my personal favorites from that era.
I took my inspiration from Toad. I was really thinking Koopa Troopa would be perfect for me to channel my rockstar villain, but Toad called to me more.
For my clothing, I made a simple bubble skirt. You can find a great tutorial how to make one HERE. If you want to make one similar, I cut out white fabric for the skirt panels, and created a stamp from a medicine lid and glued to a paper roll. Then I stamped 3 rows of the red polka dots on both panels. It created an oversized polka dot just like you see on Toad. Toad varies between red with white polka dots or white with red polka dots, and I chose the white because I felt the oversized red polka dots might signify Minnie instead. And no self respecting Mario fan wants that! I thought a bubble skirt would be the perfect way to show the toadstool oversized head in a non-literal way.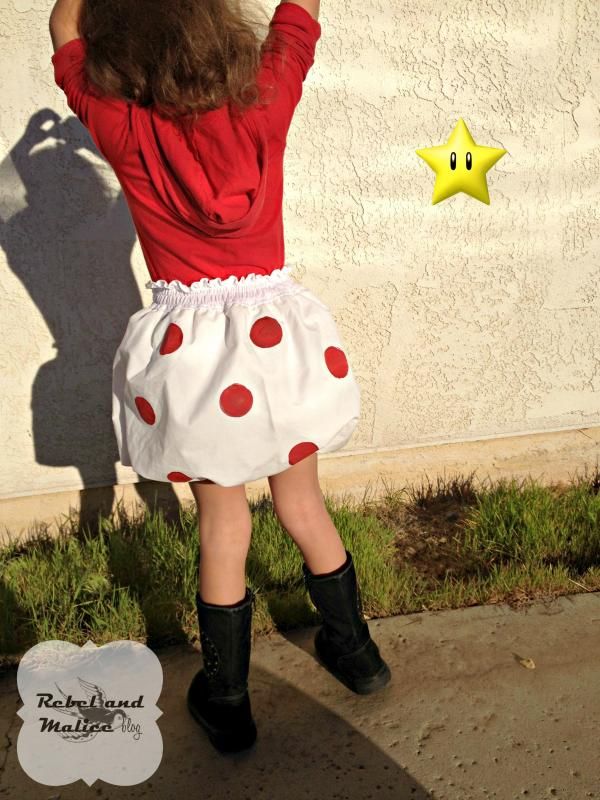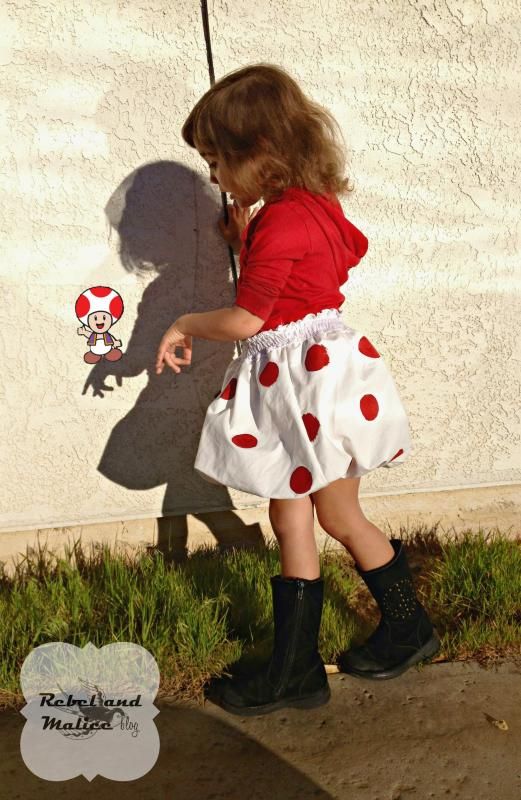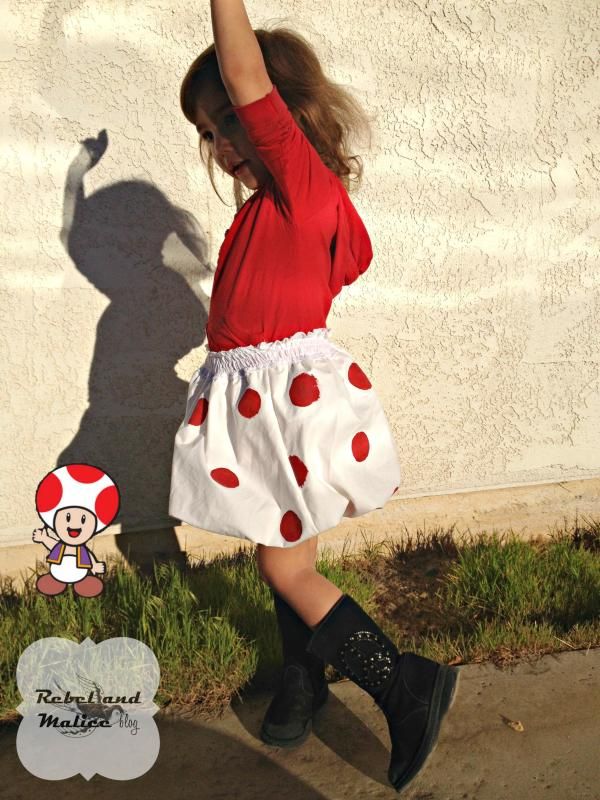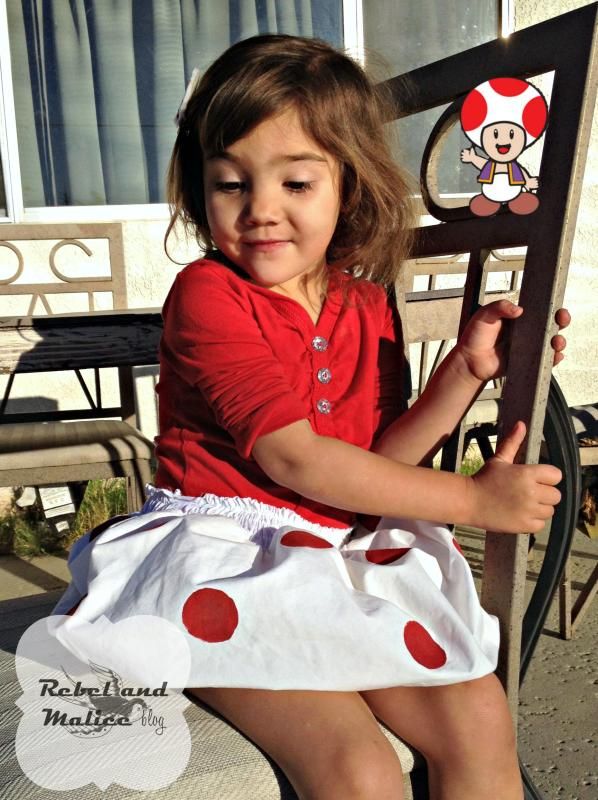 I also made a felt hair clip of Toad's head and created a template HERE you can use to make your own.
Materials:
felt for clip (I used beige, white, red and black)
red paint
hot glue gun
hair clip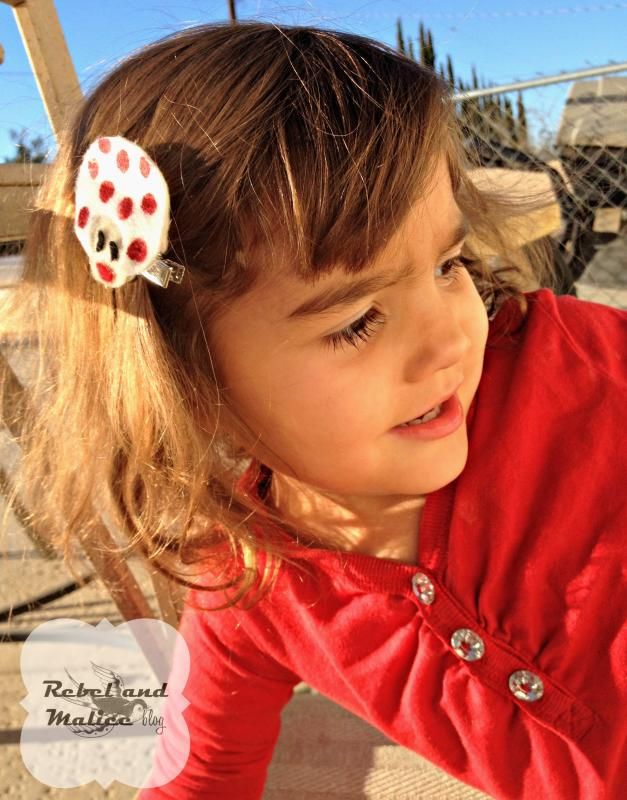 The clip goes together very fast. All you need are some felt scraps, fabric scraps or paint.
Cut out your pieces. If you don't want small pieces, then you can paint or stitch the eyes and mouth instead.
Assemble your head by gluing the pieces on or sewing. Use the base of the head to hold the head piece together and to glue to the hair clip. Once that is assembled, you can get a pencil, and dip the eraser in red paint to create the dots on Toad's head. Wait for it to dry, and you now have your own Mario accessory.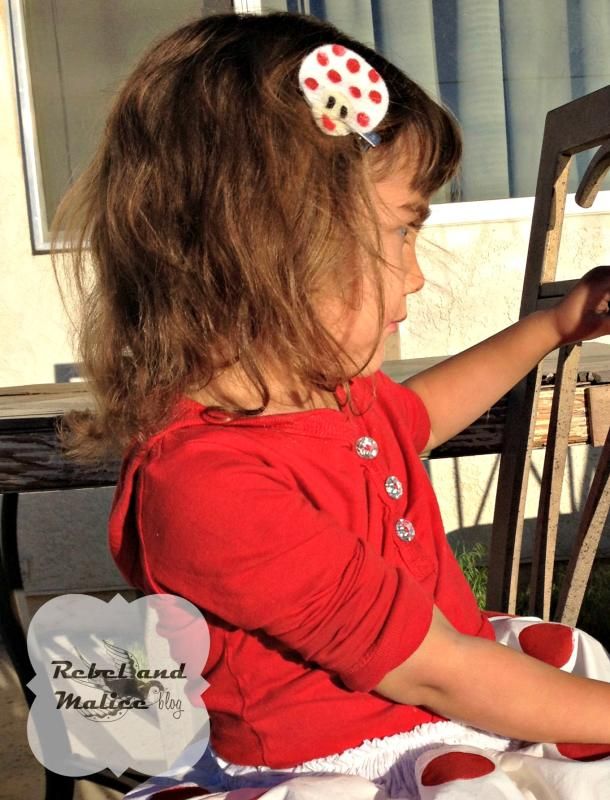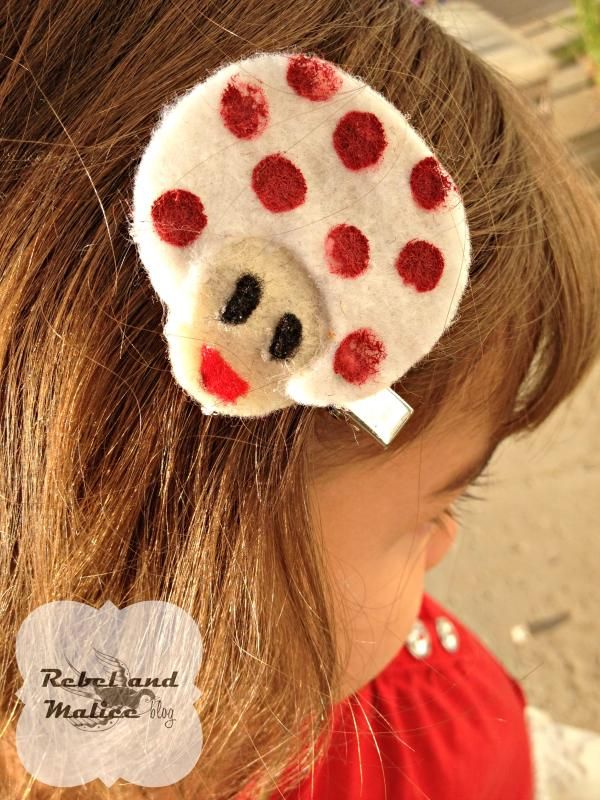 I hope you enjoyed my Toad-spiration and Thanks for having me!

How fun!! I love the barrette and the skirt is just perfect :)